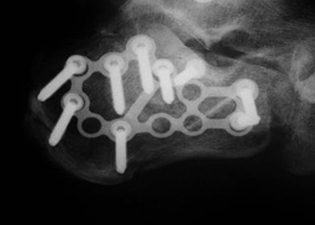 Overview
A heel spur occurs when calcium deposits build up on the underside of the heel bone. The abnormal calcium deposits form when the plantar fascia pulls away from the heel. This stretching of the plantar fascia is common among people who have flat feet, but people with unusually high arches can also develop this problem.
Heel
spurs are especially common among athletes who do a lot of running and jumping. Also, women who wear high heels have a significantly higher incidence of heel spurs. Still, it can happen to anyone.
Causes
A heel spur usually develops as a result of wear and tear over time, which leads to the degeneration of connective tissue called fascia. Standing for prolonged periods and wearing shoes that do not provide the right type of arch support can also lead to connective tissue damage in the heel. The body attempts to repair the damaged tissue by delivering calcium to the affected region, but sometimes too much calcium begins to accumulate and this results in painful plantar fasciitis.
Symptoms
Most heel spurs cause no symptoms and may go undetected for years. If they cause no pain or discomfort, they require no treatment. Occasionally, a bone spur will break off from the larger bone, becoming a ?loose body?, floating in a joint or embedding itself in the lining of the joint. This can cause pain and intermittent locking of the joint. In the case of heel spurs, sharp pain and discomfort is felt on the bottom of the foot or heel.
Diagnosis
Your doctor, when diagnosing and treating this condition will need an x-ray and sometimes a gait analysis to ascertain the exact cause of this condition. If you have pain in the bottom of your foot and you do not have diabetes or a vascular problem, some of the over-the-counter anti-inflammatory products such as Advil or Ibuprofin are helpful in eradicating the pain. Pain creams, such as Neuro-eze, BioFreeze & Boswella Cream can help to relieve pain and help increase circulation.
Non Surgical Treatment
If pain and other symptoms of inflammation-redness, swelling, heat-persist, you should limit normal daily activities and contact a doctor of podiatric medicine. The podiatric physician will examine the area and may perform diagnostic X-rays to rule out problems of the bone. Early treatment might involve oral or injectable anti-inflammatory medication, exercise and shoe recommendations, taping or strapping, or use of shoe inserts or orthotic devices. Taping or strapping supports the foot, placing stressed muscles and tendons in a physiologically restful state. Physical therapy may be used in conjunction with such treatments. A functional orthotic device may be prescribed for correcting biomechanical imbalance, controlling excessive pronation, and supporting of the ligaments and tendons attaching to the heel bone. It will effectively treat the majority of heel and arch pain without the need for surgery. Only a relatively few cases of heel pain require more advanced treatments or surgery. If surgery is necessary, it may involve the release of the plantar fascia, removal of a spur, removal of a bursa, or removal of a neuroma or other soft-tissue growth.
Surgical Treatment
When chronic heel pain fails to respond to conservative treatment, surgical treatment may be necessary.
Heel
surgery can provide relief of pain and restore mobility. The type of procedure used is based on examination and usually consists of releasing the excessive tightness of the plantar fascia, called a plantar fascia release. Depending on the presence of excess bony build up, the procedure may or may not include removal of heel spurs. Similar to other surgical interventions, there are various modifications and surgical enhancements regarding surgery of the heel.
Overview
A heel spur is a pointed bony outgrowth of the bone of the heel (the calcaneus bone).
Heel
spurs under the sole of the foot (plantar area) are associated with plantar fasciitis.
Heel
spurs and plantar fasciitis can occur alone or be related to underlying diseases.
Heel
spurs and plantar fasciitis are treated by measures that decrease the associated inflammation and avoid reinjury.
Causes
It is widely accepted now that the presence of this bony growth is not the cause of heel pain, but rather an effect of an underlying biomechanical foot problem where the soft tissue structures that are attached to the heel bone are pulling excessively on that area. At some point down the track, heel pain may develop, but the bony heel spur is not the cause of the heel pain.
Symptoms
Most of the time heel spurs present as pain in the region surrounding the spur, which typically increases in intensity after prolonged periods of rest. Patients may not be able to bear weight on the afflicted heel comfortably. Running, walking, or lifting heavy weight may exacerbate the issue.
Diagnosis
Because the diagnosis of heel spurs can be confused with tarsal tunnel syndrome (as described earlier), most surgeons advocate performing a tarsal tunnel release (or at least a partial tarsal tunnel release) along with the plantar fascia release. This surgery is about 80percent successful in relieving pain in the small group of patients who do not improve with conservative treatments.
Non Surgical Treatment
There are both conservative and surgical heel spur treatment options. Because the heel pain caused by heel spurs is symptomatic of inflammation, the first step is to ice the area in hopes to reduce the inflammation. The next step is to see our orthopedic specialist to prescribe an appropriate treatment plan. Some conservative treatment options might include Anti-inflammatory medications. Shoe orthotics. Shoe inserts. If conservative treatments are not working, surgery may be required to remove the heel spur. As in all cases of heel pain, it is important to see an orthopedic doctor who specializes in foot and ankle pain.
Surgical Treatment
Approximately 2% of people with painful heel spurs need surgery, meaning that 98 out of 100 people do well with the non-surgical treatments previously described. However, these treatments can sometimes be rather long and drawn out, and may become considerably expensive. Surgery should be considered when conservative treatment is unable to control and prevent the pain. If the pain goes away for a while, and continues to come back off and on, despite conservative treatments, surgery should be considered. If the pain really never goes away, but reaches a plateau, beyond which it does not improve despite conservative treatments, surgery should be considered. If the pain requires three or more injections of "cortisone" into the heel within a twelve month period, surgery should be considered.
Prevention
Heel
Spur
symptoms can be prevented from returning by wearing proper shoes and using customized orthotics and insoles to relieve pressure. It is important to perform your exercises to help keep your foot stretched and relaxed.